Windtek has been manufacturing high quality wind socks in Pennsylvania, USA for 30 years.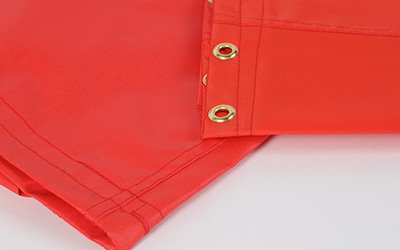 Windsocks are known throughout the world for their practical industrial applications for Airports, Airfields and Helipads for judging the speed and direction of winds. Agricultural plants, oil fields and offshore oil rigs for alerting the speed and direction of wind in case of emergencies. RC Pilots and even small aircraft pilots use smaller windsocks for similar purposes.
What makes Windtek different from other windsock manufacturers? Quality, customer service and dedication. You can order your socks from us by using our Online Shopping Cart or by simply picking up the phone and calling 800-468-7697 or (814) 774-7111. Our staff is well-trained to meet your specific needs. Whether commercial, residential, industrial or simply a novelty wind sock, Windtek has what you're looking for. Both Complete Windsock Units and Replacement Wind Socks available.
Our windsocks range from our 8" windsock to our largest 36" windsock. Features include grommets, drawstrings, European stripes, PVC or Stainless Steel bearing assemblies with non-grommeted windsock attachment.
Who is behind Windtek Windsocks?

Sometime in the early 1980's a pilot named Joe was in the process of designing his own runway. He ordered a windsock from a national distributor.
When he saw it, his reaction was that he could build a better wind sock. Before he knew it "Windsocks By Joe" was born. He designed and tested a line of calibrated windsocks. Later he went on to develop his own line of runway lights.
Joe and his wife Fran marketed their quality products for the next several years. Also known as "White Eagle Industries" they attended the "Sun & Fun" and "Oshkosh" air shows.

In 2000 Joe retired to his planes and sold the business to current owner Wendy Youngs and Windtek Inc. was established. We continue to manufacture and market the same high quality products established by Joe. This website is dedicated to that line, including additional items and gifts for the aviation enthusiast.
Why we are so passionate…

Aviation is in our blood.  We love flying.  We love the feeling of soaring in the beautiful blue skies, seeing views and perspectives that only a handful of people will ever see.  It's the same rush that every aviation enthusiast gets.  It really is a "high!"  This is exactly why we are so passionate about our products.  Our goal is to provide the best quality products for not only the aviation community by many other industrial, military and even hobbyist applications.  When we fly into an airfield, or pass by an industrial site that has one of our signature orange windsocks, we are so very proud.  We know that our time and efforts are keeping people safe.  Our passion is fueled by the one thing that we cannot see, cannot taste, cannot grab, but we can harness- the air.
Pictured is Wendy and her Husband Mark's T41B – Mascalero US Army Trainer.