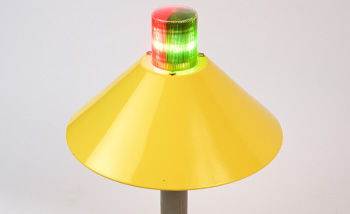 The Model ML-3 is a low intensity airport runway light designed with you the user in mind.  All components are as maintenance free as possible.  The quality of our cone is also noteworthy.  It is 10 inches in diameter and is mode of spun .050 aluminum, which is more than double the thickness of competitive products.  We finish this cone with a durable yellow enamel which provides a highly visable day time marker for your runway light edges.  The post that we employ is made of electrical grade PVC conduit which has UV stabilization and is corrosion free.
The lens is polycarbonate and is designed to magnify light omnidirectionally from horizontal to about 15 degrees above the horizontal plane, which is needed for most approaches.  the lens, along with the 15 watt bayonet long-life bulb (1000 hour) is a proven design that has been used successfully for many years.  The lens is available in clear, red, green, amber, blue, red/green, red/clear, amber/clear and green/clear.  Shields are also available so that light is visable for 180 degrees in direction.
Please note:  These airport runway lights are intended for private use only and are FAA Accepted for Helipad and Heliport usage.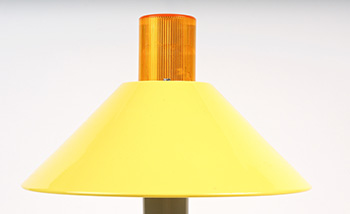 Airport Runway Light Installation
The ML-3 can be mounted in a variety of ways.  The simplest method found for securing the post is to drive a 1 1/2 inch by 1 1/2 inch by 2 ft angle iron stake into a shallow (4 inch) hole.  The light post is laid into the vee of the angle iron stake and attached with a stainless steel hose clamp.  For additional information on installation, please  Download our complete Runway Light installation guide.
---
Airport Runway Light Controller
The Windtek Pilot-Controlled Runway Light Controller allows a pilot to activate runway lights from the air using a set VHF radio frequency.  Simply keying the microphone button 5 times will set a 15 minute "Lights On" timer, that will flash for 30 seconds at the end of the cycle.  Channel frequency can be set in the field to any air band frequency, however we will ship your controlled configured to your desired frequency (108.00 MHz to 140.00MHz).  The controller output relay is rated for 10A maximum at up to 125VAC or 5A maximum at up to 100VDC  There are two plugs on this unit. The male plug is for the incoming power supply.  The female outlet is attached to your runway lights.  Download our complete Runway Light Controller Guide.